Art Audio
Source:
Art Audio Web site, Haute Fidelite January 2005, April/May 2004, 6moons.com
"
Art Audio
was created when Joe Fratus of Rhode Island encountered Tom Willis the British amp designer. Riccardo Kron, owner/operator of the Czech Republic's tube manufacturing plant KR Audio (then KR Enterprise) had charged Willis with the design of a custom SET circuit, to complement and maximally exploit his brand-new KR VV-32B power triode.
Instantly enamored with the sound of Tom's breakthrough amplifier, Joe was convinced. His search for the perfect audio opportunity was over. Between his own intimate knowledge of single-ended output transformers and sophisticated industrial design, Tom's amplifier design expertise and the ongoing support of Riccardo Kron, the engineering and marketing resources necessary to form a new company were in place.
One glance at any of today's Art Audio creations silences the common question. "What's in a name?" Sometimes, things do mean exactly what they imply. Art for the Eyes, Art for the Ears has been the company's guiding principle from inception. It simply insists that audio equipment dedicated to producing superior sound should embody superior aesthetics."
In January 2003, Kevin Carter, formerly of VAC and now heading his own firm K&K Audio, joined the company. Carter's K&K Audio is distributor of famous Lundahl transformers in the US.
BTW, if you are in DIY, check out K&K Audio's kits
. So, exiting team behind the products.
Art Audio Carissa 845 was reviewed in Haute Fidelite April/May issue. Carissa is 16wpc, single-ended, transformer-coupled, pure class "A", zero-feedback, stereo design with self-biasing circuitry using Valve Art 845 output tubes. The KR Audio 845 tubes and volume control are optional. The test unit demonstrated superior build quality (see below).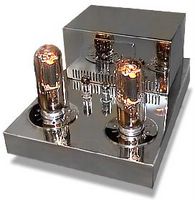 Did they like it? "...this low power amplifier tears apart the no. 1 prejudice of critics of tube amplifiers: incapacity to drive speakers with less than 90 dB/1M. To confirm this, we connected Carissa 845 with our Dynaudio Confidence 2. And, a miracle. Not only the system functioned, but moreover, it was joyful...it has fantastic transparency and purity...harmonic richness is staggering...timbre is sumptuous". You got the picture. For build quality, musicality and quality/price 5/5 stars. "...at this price Carissa...will perturb competitors." Price in France is quoted as €5.500.
Review in September 2003 in 6moons.com confirms. "This 16-watt amplifier drives like no other tube amplifier I've heard. Through the bass region, it reminds me of the push/pull Audio Research VS-55, a 50wpc amplifier utilizing the 6550 tube, well known for its bass prowess though less so for musical finesse and transparency. Not only does the Carissa do bass like the ARC but it sounds every bit as powerful. I never ran short of power."
6moons also tried optional KR tubes. "The optional KR Audio 845, said to be one of Dr. Riccardo Kron's last designs before his recent death, is, among other things, responsible for some difficulty organizing this review. I could easily have written an entirely separate review on the Carissa with the KR 845 installed - the difference between the Valve Art and KR tubes is that significant... Though the Carissa with the Valve Art tubes installed sounds very different from the Carissa with the KR tubes, both share the same traits, just to different degrees. Everything about the Carissa is intensified through the use of the KR tube. If you like what the Valve Art-equipped Carissa is all about, you may be ecstatic about what the KR does. Or, you may not. The intensified bass of the KR could be too much for your room or your tastes. I can't imagine why, but you may not enjoy the added saturation of tonal colors and harmonics that the KR brings to the table, nor its added drive."
Review concluded as "... I found the Art Audio Carissa to be one exceedingly fine amplifier. Her combination of muscular intensity and musical finesse puts her among the very best of amplifiers I've yet used in my system. Carissa has the transparency and intimacy I've come to expect from a good SET design and combines it with a spirited personality that's just plain fun to be around."
January 2005 Haute Fidelite reviewed
Art Audio's Quartet
, 50-watt, pure class "A", push-pull 845-based monoblock amplifiers. In order to assess specific charasteristics of Quartet they tested them with two, radically different pre-amps: Nagra PL-L and ATC SCA2. The Narga combination was all about finesse - "...this combination talks to your heart...". Introduction of ATC pre-amp utterly transformed the sound. "With considerable energy and impressive posture, ATC transformed ...into monsters of power and precision." Against Nagra some warmt and sweetness was missed, but control, dynamics, and balanced tonality were gained. Three dimensional soundstage was even better illustrated and illuminated that with Nagra, with super communication of small nuances and ambiance noises. "The passionate purchase which one will never regret." 5/5 stars for build quality, timbre, soundstaging, dynamics and quality/price. Price in France €8.800 a pair.

Viewpoint
: None, have not heard Art Audio's product, but I've always fancied 845-based amplifiers since I heard Nagra VPAs some years back.
Majestic
was the world which came first in my mind.